The spread of Global Grime part 1

This month see the spread of global grime take shape in an article. This month's featured arts come from Scotland, The USA, France and Sweden.

----------


Nonsense




With a name in a similar vein to Absurd (more about him later), Nonsense has developed very rapidly to being the leader of the new wave in his area. Who imagined Scotland was a hub for grime. Nonsense got into grime at the point where it had started going from the underground and becoming an entity in the public spotlight. He remembers tunes like "I can see u" and "I luv u" as being some of the first records that influenced him.



Even before hearing these beats, he had been listening to beats and "f**king" with them, before making links at the notorious axe fm. Pablo was the man that made the connect between Scotland and london solidify by offering the Artist then under the alias of "Stanley Blades" the names and contacts to emcees who were big in the game at the time. This was 2004.

Nonsense cites the fact he was from Scotland was a major point for him being accepted into the grime circle, the novelty factor must have been high on peoples list of reason to collab with him. Now fast forwarding to 2007, Nonsense and his Levels camp have done a dirty canvas rave and are doing regular raves in Scotland… so the rave scene is healthier in Glasgow than in London.

www.myspace.com/gallasone




www.ideal-music.com

other scotgrime –




http://www.myspace.com/pbluntzmusic




http://www.myspace.com/levelspromotions




http://www.myspace.com/hendyglasgow

---------------


keith P


http://www.myspace.com/keithviP

keith P is a DJ from the Dirty South, Texas to be exact repping a group of artists called Unit One. This is an interview from the winter of 2006. So it is a bit dated but there will be an update of the most recent conversations we have had.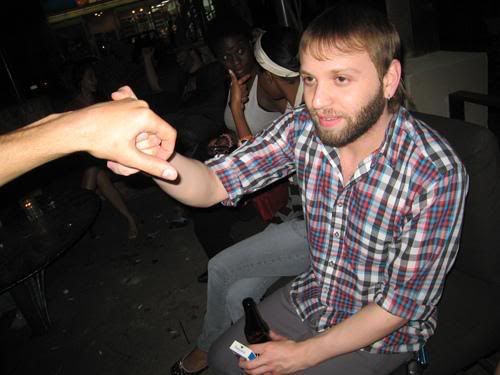 I been playing garage since 2000. Started dj'ing proper at the first garage weekly in Dallas (Funkdays)...and North America as far as I'm concerned. From there I went on to having 2 residencies and various bookings. Just gradually went into grime from 2-step and 4X4. Still play my oldschool records from time to time Started raving in high school. Goin out to jungle raves mostly. I put out at least 1 or 2 mix cd's a yr. Always trying to introduce people to new music

What sort of music?

It's always been garage oriented. It was once 2step and 4X4. Now its grime and a splash of hip hop

Ok, so your Texan.. How has that inf. ure sense of hip hop..?

I'm not a native Texan. I grew up by New York so I started listening to people like Tribe, Mobb Deep, Wu Tang, Lost Boyz, De La etc. when I was young. But Texas has its own hip hop scene and sound "Screwed and Chopped" has become a bit of an international phenomena. I appreciate it equally as much as any other form of hip hop

Screwed and chopped.. What would be an example of that particular sound?

Swisha House, Screw Up Clique. People like Mike Jones, Chamillionaire, Slim Thug, Paul Wall, Lil Flip have given it a bit more exposure

Ok, so its not crunk, its screwed and chopped..

No its not. Crunk is a different vibe and attitude. I think Screwed and Chopped has more in common with grime than crunk to be honest. The scene in Houston is self sufficient like the scene in London. Whereas Crunk's shelf life comes from commercial sales

That is very interesting, how would a person who doesn't really know about the sound tell the diff...

Screwed and Chopped is usually slow whereas crunk is fast paced.

Ok, I got you, which sound can you see outlasting the other..?

Well arguably screwed and chopped has been around longer than crunk so I don't really think there's much to touch on there.

That makes sense, where are the similarities with grime?

The self sufficient attitude. Tempo can be the same at times. "What" or "morgue" could be a screwed tunes if u wanted them to be.

There is already been crossover projects with crunk/screwed and grime, but is the US ready for larger projects?

On a commercial scale? No, grime won't work as a whole. Americans want to hear albums, not mixtapes. Well the general populace anyways. People like Sov have a chance because they have labels pushing them and screaming about how they're this "unique sound" etc. Thats all politics. Grime has the possibility to become a strong underground scene in the US though. I personally would prefer that to hearing Kano on radio

lol... I get you, but with that knowledge in mind and the amount of albums that have come out this year alone, would you say that there is a possibility of it getting played by the mainstream..?

A small one. I mean those albums have already gotten a lot of exposure and reaction already. When Dizzee came to Texas he had at least 500 people at his shows in Dallas and Austin. There were like groupie chicks and shit trying to get his autograph. I got pushed out of the way by some crazy chick while I was trying to talk to Wonder outside their tour bus lol.

ha ha ha, go on tell the story..

yeh its crazy man...I mean like all these people who have never heard of grime or garage are listening to Dizzee and Kano. I get people trying to talk to me when I wear my dizzee shirt out about him...but don't really have a comprehension of what Grime is. So there's the commercial possibility right there. As I said Americans wanna hear albums

That is something to pass on to the frat members then, in terms of your own experience who are you watching for this coming year..?

I think Slash will become one of the top producers. For mc's I'm watching anyone who is stepping their game up. I wanna see people become artists and really put an effort into what they're saying on records. The music needs a balance between rave lyrics and lyrics that make sense. Skepta, Doctor, Shizzle etc. Ruff Squad and Roll Deep still have things on lock IMO

People like L Man and Purple are setting the standard IMO. Taking a chance on tackling issues in their tunes. We need more people that do that

whats IMO?

in my opinion

for someone so far away from ldn you sound more educated than some of the folk here.. How and where do you get your news/dubs/media?

hmmm...well I order records from Rhythm Division and independence. Always clockin the rwd forums (even tho I don't use that as a way to determine how things are) Alot of my impressions of whats going on in london comes from talking to people like you, logan etc.

It seems the game is so small that its getting peer reviewed, if you can call it that.. are there any media streams/mags/etc in the states that you get info from?

Well anything that gets put in Fader or Vice I usually know about already

Those are the 2 mags giving grime the most exposure, not to change the topic but check out my xmas themed blog http://www.livejournal.com/users/soulfonik/

u'll like that

lol.. Sounds like vice and fader need to get you writing for them... now thats an idea..

Yeh if u put that in the interview...fader or vice editors take note;) lol.. i dont think they read my blog to be honest with ya! That blogspot is well different... i like it tho.. its jst mad.. im gona have to come bk to digest it a bit bit more, far too much to take in with out actually reading it..

At this point the interview then started to revolve around martial arts and sharp swords and other objects….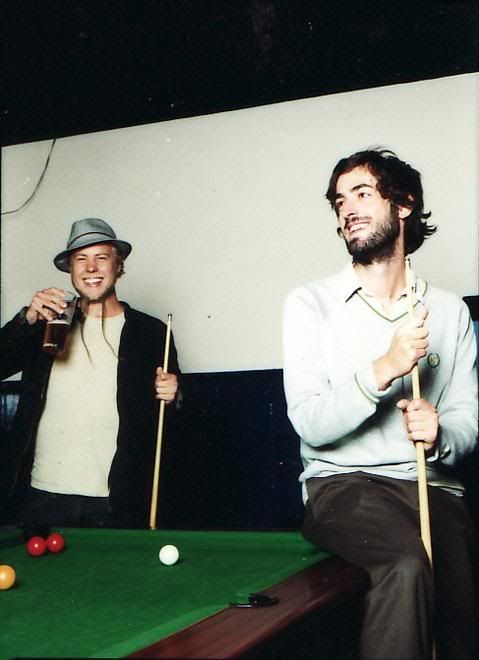 The last part of this months article comes from Radio - not featured on the map but you should be able to work out where France and Sweden are!

Radioclit:Started out as a web radio in 2003, all for the sake of promoting music that we love dearly. Before that we were already involved in music through production, djing, rapping and throwing parties.




When we say 'we' we mean, Johan Karlberg and Etienne 'Dj' Tron, a Sweden France duo based in London. We have been very supportive (and well into) the whole bass culture from Miami bass, to bounce to crunk to Baltimore club etc.

we always tried to push that super hard and feel proud we played a part in the expansion of southern 'hiphop music' in Europe. Radioclit is definitely not just about hip hop though, its about rock, all kinds of club music, electronic music and of course types all quality pop music that keeps blowing everyday, all over the world.

we have been throwing parties in Europe for a few years now. for example we where the first people to throw a grime show in France, when we brought Jammer, Ears and d double E to Paris, April 05.

We got M.I.A and Diplo out in Paris before M.I.A blew. Recently we had David Banner playing at our london Vice residency and you know we're always down with our power pop homeboys One-Two, from Paris... u see we know some cool people and that is just the beginning of this shit! Basically, we always try to find and push the newest, freshest music.

Since January 06 were doing a weekly dj mix podcast called ghettopop which had 15 000 subscribers within 2 months. we just signed a deal for radioclit (as a production team) with Counterfeet records, a new label launched by Sinden and Dave Taylor of Switch and Solid Groove fame our first singles should drop pretty soon with a bunch of more to follow.

We 've done stuff with a whole bunch of talented folks including Tunde from Tv on the radio, Switch, TTC, Ears, Skepta, Tinchy Strider, Bonde do role, no surrender. its all our production with guests and collaborations.

We call our sound system Ghettopop, not because we come from the hood but because we were ghetto music specialists and have a ghetto/pop approach to djing and producing. Radioclit tours plenty and occasionally we have Ears come with us to spice things up.

Check our maturemachomachine track on Cuizinier (TTC) new mixtape thurr

Keep in touch with our latest music and parties on myspace subscribe to the podcast

get in touch for promos, collab, or feedbacks at mail@radioclit.com

Love

Johan & Etienne "dj" Tron